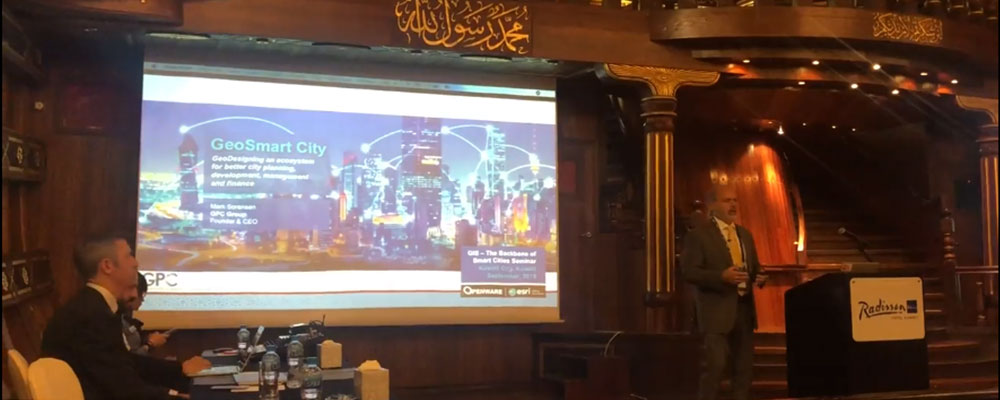 Kuwait government has announced "New Kuwait 2035", which is a set of measures to boost the economy over the next 20 years through reducing dependence on oil revenue and building the country as a hub for finance, trade and tourism in the region. Kuwait government has planned to build nine smart cities under the New Kuwait Vision 2035.
On 24 September, 2018 the Openware Company of Kuwait facilitated a seminar entitled "GIS – The Backbone of Smart Cities" at the Abdul Hussain Marafie Grand Ballroom, Radisson Blu in Kuwait City. The Seminar was especially timely and intended to advance discussions regarding Smart City in alignment with the Country's new strategic vision.
Mark Sorensen, president and founder of the GPC Group provided the opening presentation for the seminar, outlining elements of a "GeoSmart Ecosystem". The presentation identified several major components that can work together to create a viable environment for Smart City development to thrive. This explanation was followed with case studies from around the world to demonstrate the principles involved and to highlight the critical role that geospatial tools and data play in making a city truly "GeoSmart".
Other presenters included Esri and Huawei, providing a look at GIS and computing infrastructure and the exciting emerging technologies that will shape the next generation of Smart City development.
The seminar was attended by over 100 persons from government, private sector and universities. The setting was the inner sanctum of the fabulous Al-Hashemi-II, the largest dhow (Arabian Ship) ever built, and at 84m (275 ft), one of the largest wooden ships in the world today.
Click here for the smart city presentation