Eye on Earth
CLIENT: Environment Agency Abu Dhabi (EAD)
LOCATION: Abu Dhabi, UAE
STARTING YEAR: 2010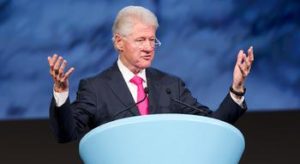 Former US President Bill Clinton Speaking at the Eye on Earth Summit
Overview
The Eye on Earth Summit, Alliance and Special Initiatives brings together global leaders, innovators and decision-makers to convene, converge and collaborate on an issue critical to the wise decision-making upon which our planet's future depends: how to ensure equitable access to the world's expanding pool of environmental, social and economic data and information needed to achieve the new UN Sustainable Development Goals. The Eye on Earth Summit was hosted by the Environment Agency – Abu Dhabi (EAD) in partnership with the United Nations Environment Programme (UNEP) and was under the Patronage of His Highness Sheikh Khalifa Bin Zayed Al Nahyan, President of the UAE.  Raymond Chavez served as Senior Producer and Program Development Advisor with the GPC Group for EAD and UNEP for the inaugural Eye on Earth Summit and Exhibition from 2010 – 2014. GPC work covered all phases of project design, planning, fundraising and production.  GPC was also responsible for securing the following VIP keynote speakers and presentation curating for the Summit: President Bill Clinton, UN SecretaryGeneral for Rio+20, H.E. Sha Zukang, UNEP Executive Director, Achim Steiner, National Geographic Explorer-In-Resident, Dr. Sylvia Earle, Dr. Jane Goodall, Esri President, Jack Dangermond, Google Earth Director, Rebecca Moore and IUCN Director General, Julia Marton-Levefre, among others. GPC's Raymond Chavez was also producer with National Geographic of the Eye on Earth Summit video (See Eye on Earth Curtain Rasier below).
Raymond was the GPC team leader for strategic partnership development of the new Eye on Earth Alliance which includes EAD, UNEP, Group on Earth Observation (GEO), IUCN and World Resources Institute. The Eye on Earth Alliance will assume leadership and responsibility for the next Summit currently planned for October 2015 and to support the Eye on Earth Special Initiatives. GPC's work also included work in developing the Eye on Earth Fund, a public-private endowment and donor-advised fund that will support the Eye on Earth Alliance, Special Initiatives and Summit.

Highlights
Eye on Earth focused on many topics related to environmental information networking, including Disaster Management, Oceans & Blue Carbon, Water Security, Innovative Cities, Networks Beyond Information Technology – and more. Working Groups and Open Sessions will helped reach a consensus on the key data and information issues that Rio +20 needs to focus on. These will be presented to Rio + 20 by AGEDI, on behalf of the Eye on Earth Community in the Eye on Earth Declaration.
The Summit
Over four days Eye on Earth addressed the crucial importance of environmental and societal information and networking to decision-making. On the final day, the Summit delivered its conclusions, special initiatives and a declaration towards Rio+20. Keynote speakers throughout the four days of the Summit included President Bill Clinton and H.E. Dr Rashid Ahmed Bin Fahd, UAE Minister of Environment and Water.
The Exhibition
The Exhibition featured the best in new geospatial observation and data processing technologies. Highlights included the Abu Dhabi Pavilion, Technology Showcase, Innovation Forum, and the One UN Pavilion that brought together UNEP and other UN agencies, funds and programmes to display information and products that illustrate the multi-dimensional international work the UN is doing in the area of environmental data and information.