GPC Group provides a range of services in multiple industries for which it has accumulated experience and knowhow over the years. The services and solutions provided for those industries combine thorough understanding of the business and enabling environmental factors, encompass inherent and comprehensive digital transformation strategies, and are complemented by GeoSmart applications and innovative technologies. The main categories include:
Government
Within the GPC Group, we have developed a comprehensive experience and an extensive knowhow over the years working on…

Government
Within the GPC Group, we have developed a comprehensive experience and an extensive knowhow over the years working on…

Local Government & Municipalities
Within the GPC Group, we work on several local government strategic initiatives such as GIS Roadmap, GeoMature Strategies,…

Utilities & Infrastructure
Within the GPC Group, we work on a variety of enterprise roadmap implementation initiatives for utilities & infrastructure with…

Real Estate & Infrastructure Development
Within the GPC Group, we work with real estate & infrastructure developers on a…

Environment & Natural Resources
Within the GPC Group, we work with environmental and natural resources agencies to empower policy-informed decisions,…

Other Industries
In general, the GPC Group, partners with a diversity of stakeholder entities across various disciplines to develop GeoSmart…
GeoSmart Services
The GeoSmart services includes the various types of services provided by GPC Group across the various industries. The variety of services address Business, Institutional and Technical needs and requirements. The technical services are further described under the technical services section. GPC Group mobilizes the services of one or several of its companies to satisfy the needs and requirements of its clients. Depending on the nature of the projects, we may associate with strategic business partners and professional subject-matter-experts, complementing our internal expertise as may be needed, towards the provision of turnkey solutions and services as per the prerogative of the client.

Turnkey GeoSmart Services and Solution

GeoSmart Planning

SDI+ as enabler of Geosmart Solutions

GeoSmart Programs' Managed Services

Incremental Business Process Automation & Advanced Geo Analytics Services
GeoSmart Technical Services
GPC Group offers a range of Geographic Information System (GIS) and Information and Communications Technology (ICT)-supported business solution technical services to meet the needs and priorities of its clients. GPC Group services combine the right balance of business consultancy and technical implementation, thus ensuring that your well-planned system is equally well implemented by the same world-class team.
The client-centric principles and proven methods used by our teams provide the best support to our clients while designing the solutions or services that ensure compelling results and return on investment. We engage with each client as a valued partner with a heavy emphasis on stakeholder involvement. This typically helps to expedite the transformation process and solidify the end users and management buy-in and alignment towards achieving and further growing the underlying improvements of processes, activities, and customer-facing services.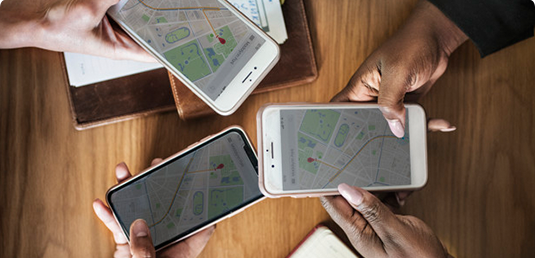 Comprehensive applications design
in many situations, new or enhanced applications are meant to support and further optimize specific processes, activities, or services. Processes would need to be analysed and likely redesigned in the context of a wider value chain that encompasses customer or strategic partners' journey(s).